The Materialist Magician
The Materialist Magician was released to bookstore on 23 December 2014 by Tate Publication.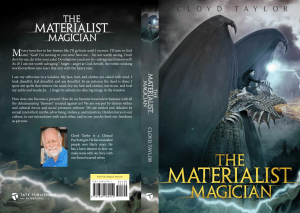 From the cover:
Misery lures her to her former life. I'll go back until I recover. I'll turn to God later. "God! I'm turning to you now! Save me…I'm not worth saving. Don't do it for me, do it for your sake! Do whatever you have to—salvage me from myself! As if! I am not worth salvaging." Anger—anger at God, herself, the rotten stinking world overflows into tears that mix with the heavy rain.
I see my reflection in a window. My face, hair, and clothes are caked with mud. I look dreadful, feel dreadful, and am dreadful. In an instance the deed is done. I spew out spells that remove the mud, dry my hair and clothes, warm me, and heal my ankle and headache…I linger to admire my alluring image in the window.
How does one become a person? How do we become benevolent humans with all the dehumanizing "demons" arrayed against us? We are warped by desires within and cultural forces and social pressures without. We are misled and deluded by sexual (and other) myths, advertising, violence, and injustices. Hidden forces in our culture, in our interactions with each other, and in our psyche limit our freedoms as persons.
Cloyd Taylor is a Clinical
Psychologist. He has counseled
people over thirty years. He
has a keen interest in how we
make sense with our lives, with
our flawed scarred selves.
P R I N T E D I N T H E U S A
FICTION, Magical Realism
978-1-63418-041-2 $ 24.99
For individuals to order the book now.